my 15 year old daughter and my 11 year old son make collars and brass name tags. They started doing this a over a year ago all of the profits from this goes into there savings account for college.
All collars and leads are put together with 2 piece brass plated rivets (not the kind of rivet that goes through the material and mashes out)
Collars are 3/4 inch wide and 17 inches long with center ring
colors includes ORANGE, RED, GREEN, BLUE, YELLOW, PINK, BLACK in day-glo
ORANGE, BROWN, PURPLE in BETA
Collars are $4 each including brass a name tag (up to 3 lines)
Shipping for 1- 12 collars $6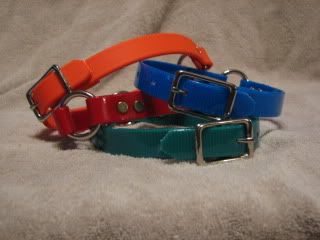 contact phone # 573-300-5588 or send order and check or money order to
chris wells
10372 bailey dr.
potosi, mo. 63664
They also make leads and couplers
5 ft lead same colors as collars $9.50 (leads come with snap on each end and o-ring)
Double couplers $7.00
Triple couplers $9.00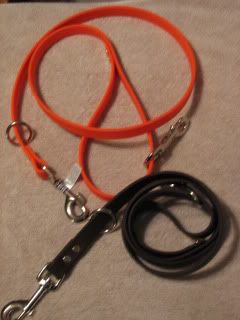 thanks,
chris wells