Discussion Starter
·
#1
·
Acadiana Beagle Club held a Fun Day for Club members and their guests on March 20th. 2010, We couldn't of chosen a better day. The grounds were in great shape and rabbits plentiful. First time since last summer that we didn't have to contend with mud & water. Lonnie Richard took charge of organizing the trial and had everything well planned. Thanks as usual to Steve and Nanette for getting all the food and drinks and picking up in making sure this trial was a big success. Thanks to the judges, Allen Henry, Rudy Breaux, Steve Poirier and Michael Cluse, and Great Cooks, Henry Griffin, Nanette Poirier & Eugene Champagne. Beaglers who attended were fed a free Steak Dinner. Although planned several months back we could not predict that Bayou Blue Beagle Club just a few miles from us was going to host the Long Star Championship which reduced our entries because several of its members also belong to Acadiana Beagle club and would of attended if not for the runnoff. Entries totaled 25, 15" Class drew 14 and 13" Class 11. Not a large turnout but the ones that were entered were quality dogs. I didn't see any I didn't like. Every pack only needed one rabbit which was very impressive and could of been a winners pack themselves.The judges put together super winners packs.
Results:
13" Combined
Judges: Allen Henry & Rudy Breaux
1st. ??????? Lucky, Owner: Allen Shakesnyder
2nd. Randomshot Shorty, Owner: Purvis Bertrand
3rd. Swampland Cassie II, Owner: Douglas Richard, Handler: Paul Richard
4th. Cypress Swamp Cry Baby, Owners: Steve & Nenette Poirier
NBQ. Shag Rag Hills Little Ruby, Owner: Ronnie Louviere
15" Males Results
Judges: Steve Poirier & Michael Cluse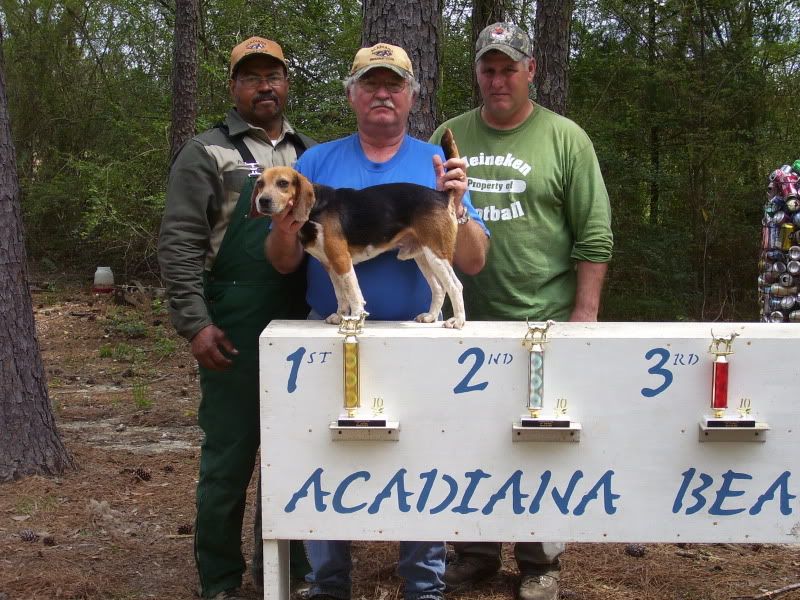 1st. KC's Cajun Land Robo, Sire: FC Short's Robo, Dam: Triple B Maggie Mae, Owner: John Taylor, Handler: Paul Richard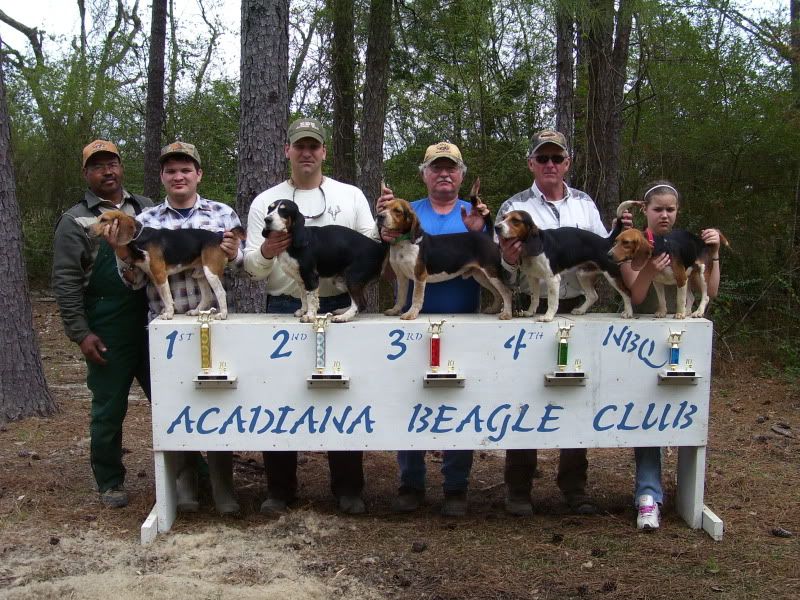 2nd. Cajun Country Rock, Owners: Leander & John Richard
3rd. Mike's Bayou Current Lil Joe, Sire: FC Russell Creek Reapers Brew, Dam: Homochitto Jolie, Owner: Michael Gerace, Handler: Paul Richard
4th. Cajun Country Rebar, Owner: Lonnie Richard
NBQ, Brown's La. Indian Head, Owner: Rudy Richard, Handler, His Grandauthter
I thought it would be interesting to post the results on this site especially the results of the 15" Class. My dog is the first place dog which it Shorts bred but the three big Black dogs that placed 2nd, and 4th are Blackcreeks and the 3rd place dog is half Blackcreek. Was tuff competition but Robo pulled it off!!